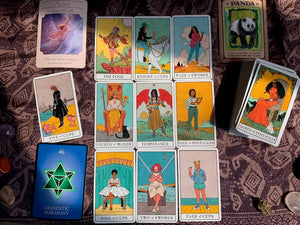 This reading looks at: past, present, and potential, future energies. The entire reading provides general insight regarding your environment, any people or situations you are currently or may soon be dealing with, and we'll also go over advice or guidance from the Universe. Clarifying and oracle cards pulled and used as needed. Readings can be:

In person (based on present location; travel also available upon request for both individual readings and events - travel fees required and vary).

Performed remotely (live) and / or recorded

Recorded and sent via email
Photos show examples only. For questions, contact us.